UNIQUE CHEMISTRY
Manufactured from personal care ingredients, BOELUBE is biodegradable and dermal non-irritant.
BOELUBE is non-corrosive, non-flammable, chemically stable, and free of halogens, sulfur, phosphorus, silicone, petroleum and paraffin wax.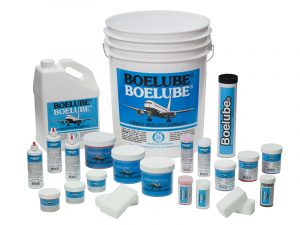 BOELUBE does not contain any ingredients considered a hazardous substance by OSHA, WHMIS, IARC, NTP and State Regulatory Lists. Refer to Safety Data Sheets for additional information.
BOELUBE will not promote dermatitis, provides a high degree of worker safety, and presents a safe effective method to machine various types of materials without special handling, fluid recycling or typical disposal issues.
BOELUBE can be removed from surfaces using isopropyl alcohol, denatured alcohol, MEK, or aqueous cleaner.
BOELUBE has indefinite shelf life.
BOELUBE is in most cases compatible with paints and sealants (though it is highly recommended that compatibility be determined before use).
BOELUBE provides superior lubrication when machining or forming the increasingly complex range of materials now being used in Aerospace and other manufacturing industries.