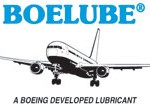 ABOUT BOELUBE
Produced under license from The Boeing Company.
BOELUBE® is among the trademarks owned by Boeing. (…)

ABOUT ORELUBE
Since 1958, The Orelube Corporation has manufactured and marketed Specialty Lubricating Oils & Greases for Industrial applications worldwide.
Orelube produces fully formulated lubricating oils and greases (…)

DISTRIBUTION NETWORK

For over 60 years, we have built a strong partnership with our distribution partners worldwide. Our main focus is to provide our customers the highest quality lubricants we can produce for use in industrial application and aerospace manufacturing.